Videography
Students and teachers took part in filming at the homeless conference, homeless shelters, and other related events. In the process of filming and editing movies, students must use just about every computer skill including advanced editing and graphic techniques, visual design of the movie for such things as titling, chromakey techniques, layering, capturing footage, applying advanced filters to audio and video, and more. The format we filmed in was mini-dv.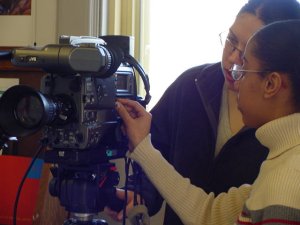 The editing system was DV Storm RT from Canopus Corp, http://www.canopus.com.

Cameras and Equipment:
VidionicsDigital Video Mixer
ProJVC Professional GY500 Digital Video Camcorder
Canon Optura 100 MC Digital Video Camcorder
Sony Mavica 400 Digital Camera
Canon Eliph S230 Digital Camera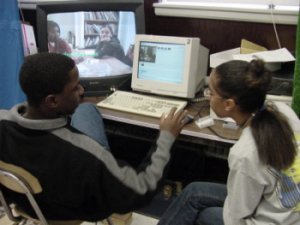 Web
The web site was developed using various applications listed below.
Canopus Corp. DV Storm RT Non-linear Digital Video Editor
Adobe Photoshop
Paintshop Pro
Macromedia Dreamweaver
ColdFusion Editor
Coldfusion Server
Coldfusion Studio Macromedia
CD ROM
Web Pages
on this Site
Depression Era Tactics Against Evictions and Homelessness